TEST + Build in practice
Medway Council

Medway Council used TEST + Build™ to design and then test new ways of increasing the rate at which Council Tax payers signed up for Direct Debit.
Officials from Medway used the support and guidance provided by TEST + Build™ to develop a range of ideas that could be tested against a control letter that were already being sent out.
It was decided to test whether inserts added into Direct Debit letters would increase uptake. Two variants were tested:
The first focused on simplifying the content and adding in 'social norms' informing taxpayers how many other people were signing up to Direct Debit;
The second used 'loss aversion', which emphasised the time and effort taxpayers would save by signing up to Direct Debit.
After BIT researchers provided final quality assurance to these letters, Medway used the TEST + Build™ platform to run a randomised controlled trial. BIT researchers again supported with key points in the process - specifically randomising the recipients into those receiving the control (which contained no new inserts), and those receiving one of the two new variants. And then evaluating the final outputs, using anonymised data Medway uploaded to the TEST + Build™ platform.
The results showed significant increases in sign-ups for both of the new interventions. They also show how people in different Tax Bands responded very differently to the prompts - the higher the bands, the more likely it was that individuals moved onto Direct Debit plans.
Direct Debit sign-ups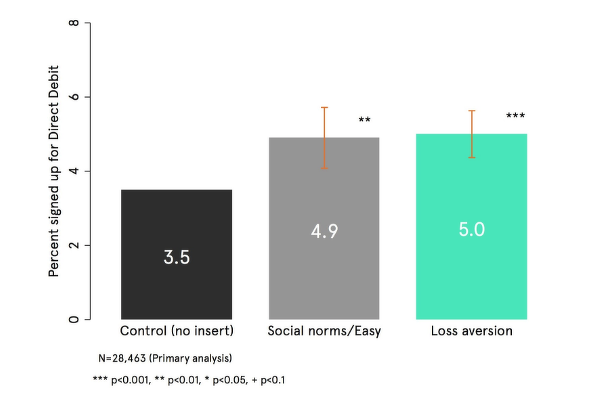 Sign-ups by property bank (TOT)